A high quality early childhood program provides a safe and nurturing environment while promoting the physical, social, emotional and intellectual development of young children.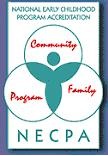 Buttons 'n Bows Preschool 'n Kindergarten is in the process of being accredited with National Early Childhood Program Accreditation (NECPA). NECPA operates a national, voluntary accreditation system for any public or private school or child care center that serves children from birth through kindergarten and/or school age child care. The accreditation process identifies high-quality early childhood programs and schools.
In accredited programs, you should see:
o       frequent, positive, warm interactions among teachers and children
o       planned learning activities appropriate to children's age and development
o       specially trained teachers and directors
o       on-going professional development
o       enough adults to respond to individual children
o       many varied age-appropriate materials
o       respect for cultural diversity
o       a healthy and safe environment
o       inclusive environments
o       nutritious meals and/or snacks
o       regular, two-way communication with parents who are welcome visitors at all times
o       effective administration
o       on-going, systematic evaluation
We are always happy to meet new families, take you on a tour of our center, and answer your questions.